I picked up a collection with a ton of junk wax modern FB in it. In sifting through the cards I found one with card stock that appears to be tan rather than white on the back. The difference is quite marked: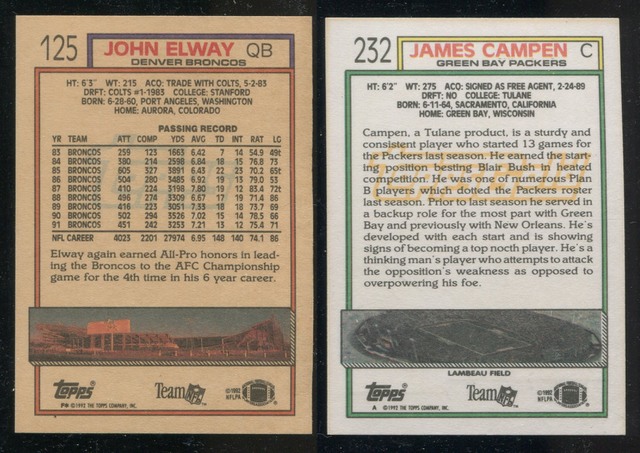 Is the Elway roached or is there a stock variation known for this set?
PS: I realize that the Campen is a gold card and the Elway is a regular but that doesn't matter: out of several hundred of these I went through there were only two cards that looked like the Elway, out of a group that had been stored for at least 26 years in the same way.
__________________
Please visit my web site:
www.americasgreatboxingcards.com
So... move out of your studio apartment! And try speaking to a real live woman, and GROW THE HELL UP! I mean, it's just baseball cards dammit, IT'S JUST BASEBALL CARDS!
10% off any BIN in my eBay store (user name: exhibitman) for N54 members buying direct from me through this site instead, just PM me.