I completely forgot about Lelands until someone cold-called me Friday at the office. Too bad for whoever was the high bidder on this 11 x 14 Marciano piece before they called:
One of the few sets I'm collecting are the premiums from Slidewell/Slim Jim Bow Ties. The Marciano is #1 on my want list of course. I found a promo PC a few years ago.
Still no actual premium, though.
Slidewell used a few of the ads to create promotional broadsides (11 x 14) for specific fights, basically by enlarging the premiums and adding the fight details across the bottom. Tough as the set is, these are almost impossible. I've seen one with Archie Moore and this one: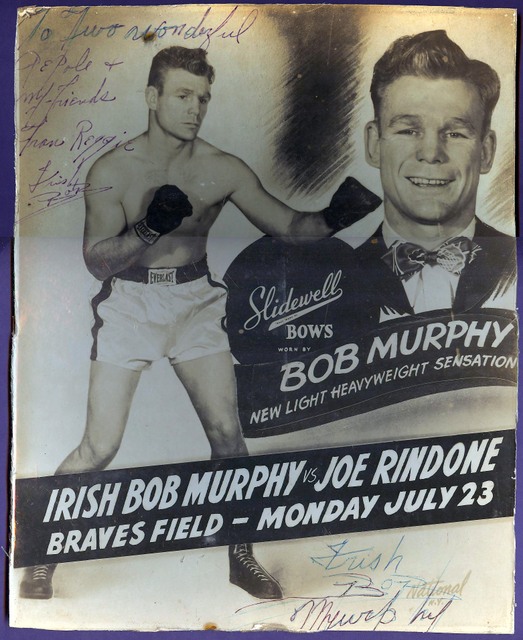 I saw the Marciano in the catalog, opened the lot, and forgot all about it...until they called me.
The interesting thing is that the Marciano was a complete re-do of the premium, because the premium itself was issued pre-championship, as the PC shows. The Murphy was just a reuse of the premium art. Since all are National Studios credited and the Marciano poster image is a commonly used Marciano image found with many other products as well as on his training camp souvenirs, I have a feeling that National did the photos and created the art for the Slidewell/Slim Jim set.
I just love these career-issued Marciano promo pieces.
__________________
Please visit my web site:
www.americasgreatboxingcards.com
My collection: The Festival of Bric-A-Brac
So... move out of your studio apartment! And try speaking to a real live woman, and GROW THE HELL UP! I mean, it's just baseball cards dammit, IT'S JUST BASEBALL CARDS!