While working on the next edition of my book I've been revisiting some issues, among them 1948 Leaf. There are quite a few substantial print variations in the set. I've been more aware of and obsessed with the print freaks (blank backs, misprints, ghosts, etc.) but these variations are the real deal. The ones I've seen involve the gloves and/or trunks of the boxers. It appears that for a substantial group of the cards, the boxers' gloves or, er, boxers, can be on the spectrum from red to blue. Here are some Joe Louis variations:
Both are gray backs. I have a white back with the red gloves.
There also seems to be a print variation on the Louis where his forearm is heavily shaded to varying degrees.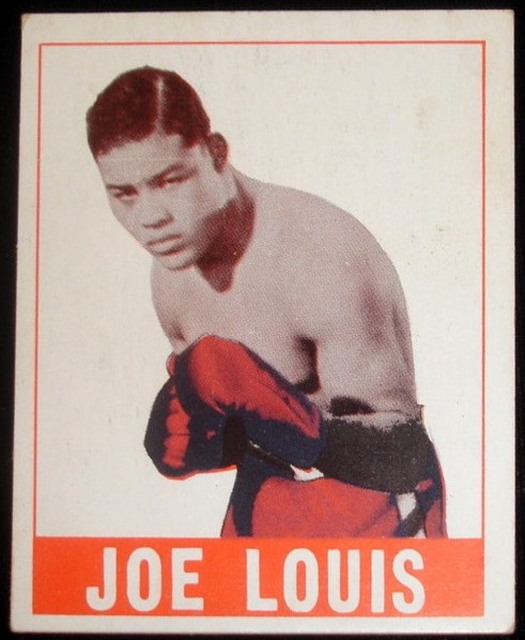 I've also cataloged glove color variations on several other cards.
If anyone has variations to share, I'd love to see them.
__________________
Please visit my web site:
www.americasgreatboxingcards.com
So... move out of your studio apartment! And try speaking to a real live woman, and GROW THE HELL UP! I mean, it's just baseball cards dammit, IT'S JUST BASEBALL CARDS!
10% off any BIN in my eBay store (user name: exhibitman) for N54 members buying direct from me through this site instead, just PM me.