PSA screws up again soccer again
---
In a growing long list of PSA stupidity, once again slabbed soccer cards are wrongly labels.
These are marked 1958 - completely wrong! Recently sold on eBay to some poor unsuspecting person.
Proof on the back.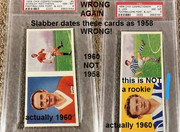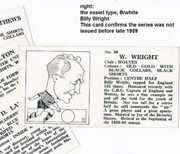 __________________
Collecting vintage soccer
Collecting pre-war baseball
Collecting vintage horse racing (wanted: tobacco cards and pins)
Set in progress: 1994 Upper Deck World Cup autographed
Set in progress: 1938 Konig Fussball
Sub set in progress: 1910-12 Sweet Caporal pins - Philadelphia Athletics - 4 of 11 complete (need: Baker, Murphy, Plank, Krause, Davis)

Successful transactions:
aro13
edsj
commishbob
jpaol99
Gonzo,
abroom
Brianp-beme
Dboneesq
Chris Counts
xplainer
Bobbyw8469
---
Last edited by Copa7; 01-12-2019 at

10:15 AM

.