I have been trying for years to change their minds. Maybe the Exhibit book I hope to publish in 2018 will help.
Technically speaking, PSA's position is nonsensical. Anyone who knows Exhibits knows that the stock is very distinctive and was used across all the card sets, and that the only way to counterfeit a halftone print like an Exhibit card convincingly is to use the original art or the original plates. Anything else made from a card is an obvious re-screen (2nd generation halftone print made from a photo of a halftone print). Takes all of about ten seconds to weed out a counterfeit. That is why the Canadian arcade cards are clearly not ESCO products. They could not have vended through the machines without fouling and are re-screens. They are, however, vintage and quite desirable.
I can also second Jeff's observations re the duration of the FB card run. This is from a 1955 catalog: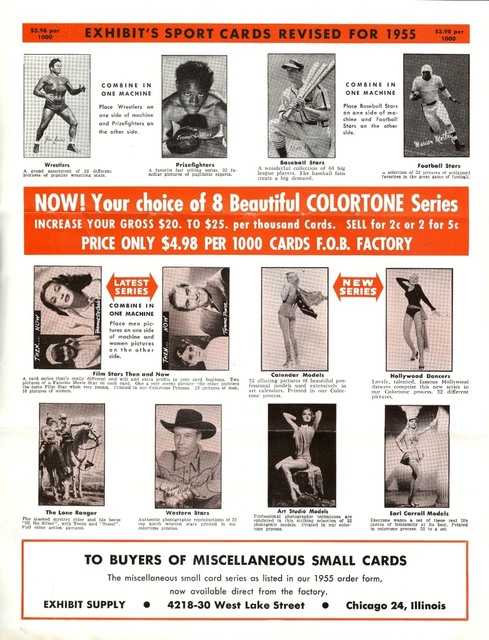 __________________
Please visit my web site:
www.americasgreatboxingcards.com
So... move out of your studio apartment! And try speaking to a real live woman, and GROW THE HELL UP! I mean, it's just baseball cards dammit, IT'S JUST BASEBALL CARDS!
10% off any BIN in my eBay store (user name: exhibitman) for N54 members buying direct from me through this site instead, just PM me.