I bought a giant storage tub full of 1998-2004 cards and noticed while flipping through them that this card had an error: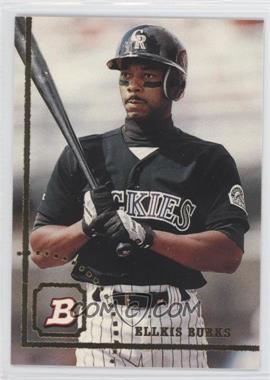 1994 Bowman - [Base] #414 - Ellis Burks
Courtesy of COMC.com
Did a search on the internet and only saw one mention of this presumably uncorrected error: the foil name on the front is spelled "Ellkis". Both copies on COMC and the eBay cards have it spelled Ellkis.
__________________
--
Current Want to Buy/Trade for List:
1930s Phoebe Phelps Caramel Pennant of Georgia Tech
1910 Painted handkerchief of GA Tech pennant girl by F. Earl Christy sold by Atlanta Toy Museum on eBay circa 2000.
COMC store:
https://www.comc.com/Users/mjohnatgt,sh,i100