Payment: MO are accepted. PayPal Goods is absolutely fine with me as well, no 3% needed.
E-mail preferred, but PMs are okay, but since I don't get e-mails anymore when I get a pm, e-mail is the best method of contact.
the.cards.of.our.pastime@gmail.com
(this is my paypal e-mail as well)
I haven't dissected the prices of all of these cards, and some may be "too high". I am willing to work with you on price, just send an offer. I really do not get offended or frustrated by any offer and am willing to discuss with you with the hope of meeting at a price where both of us are comfortable.
First link is front scan, second is back scan. If any of them are wrong, please let me know. I'm sure some of you know how tedious a process that is.
N43
1888 N43 Allen & Ginter World Champions: R.D. Sears "Lawn Tennis" PSA 5 EX $650.00
http://s1185.photobucket.com/albums/...urrent=183.jpg
http://s1185.photobucket.com/albums/...urrent=184.jpg
E90-1 American Caramel
1909 E90-1 American Caramel: BILL DONOVAN "Detroit Tigers" $31.00
http://i1185.photobucket.com/albums/z356/npa589/395.jpg
http://i1185.photobucket.com/albums/z356/npa589/396.jpg
1909 E90-1 American Caramel: FRANK CHANCE "Chicago Cubs" $65.00
http://i1185.photobucket.com/albums/z356/npa589/347.jpg
http://i1185.photobucket.com/albums/z356/npa589/348.jpg
1909 E90-1 American Caramel: HARRY HOWELL "Follow Through, St. Louis AL" $20.00
http://i1185.photobucket.com/albums/z356/npa589/397.jpg
http://i1185.photobucket.com/albums/z356/npa589/398.jpg
1909 E90-1 American Caramel: JACK BLISS "St. Louis Cardinals" $14.99
http://i1185.photobucket.com/albums/z356/npa589/405.jpg
http://i1185.photobucket.com/albums/z356/npa589/406.jpg
E92 Croft's Candy/Dockman & Sons
1909 E92 Croft's Candy: Danny Murphy SGC 40 $200.00
http://s1185.photobucket.com/albums/...urrent=135.jpg
http://s1185.photobucket.com/albums/...urrent=136.jpg
1909 E92 Croft's Candy: Topsy Hartsel SGC 50 $425.00
http://s1185.photobucket.com/albums/...urrent=133.jpg
http://s1185.photobucket.com/albums/...urrent=134.jpg
1909 E92, Dockman & Sons Gum: ART DEVLIN "New York Giants" SGC 10 $34.00
http://s1185.photobucket.com/albums/...urrent=101.jpg
http://s1185.photobucket.com/albums/...urrent=102.jpg
1909 E92, Dockman & Sons Gum: FRANK CHANCE "Chicago Cubs" SGC 20, Looks Great! $170.00
http://s1185.photobucket.com/albums/...urrent=109.jpg
http://s1185.photobucket.com/albums/...urrent=110.jpg
1909 E92, Dockman & Sons Gum: JOE TINKER "Chicago Cubs" SGC 30 $195.00
http://s1185.photobucket.com/albums/...urrent=111.jpg
http://s1185.photobucket.com/albums/...urrent=112.jpg
Raw:
1909 E92 Dockman & Sons Gum: BOB BESCHER "Cincinnati Reds" F-G $34.00
http://s1185.photobucket.com/albums/...urrent=522.jpg
http://s1185.photobucket.com/albums/...urrent=523.jpg
C46 Imperial
1912 C46 Imperial Tobacco: CHICK GANDIL PSA 4 Scarce/Key Card "Black Sox" $750.00
http://s1185.photobucket.com/albums/...urrent=175.jpg
http://s1185.photobucket.com/albums/...urrent=176.jpg
T206 White Border
Graded:
1909-11 T206 American Beauty 460: RUBE MARQUARD "Throwing, HOF" SGC 20 $525.00
http://s1185.photobucket.com/albums/...urrent=173.jpg
http://s1185.photobucket.com/albums/...urrent=174.jpg
1909-11 T206: Bill Chappelle, Slight Ghost image on back SGC 30 $45.00
http://s1185.photobucket.com/albums/...urrent=115.jpg
http://s1185.photobucket.com/albums/...urrent=116.jpg
1909-11 T206: BILL DAHLEN "Brooklyn Portrait" SGC A (No Creases) $225.00
http://s1185.photobucket.com/albums/...urrent=127.jpg
http://s1185.photobucket.com/albums/...urrent=128.jpg
1909-11 T206 Piedmont: JAKE BECKLEY "Kansas City" SGC 30 $75.00
http://s1185.photobucket.com/albums/...urrent=169.jpg
http://s1185.photobucket.com/albums/...urrent=170.jpg
1909-11 T206 Sweet Caporal: BOBBY WALLACE "Portrait" SGC 40 $105.00
http://s1185.photobucket.com/albums/...urrent=171.jpg
http://s1185.photobucket.com/albums/...urrent=172.jpg
1909-11 T206 Sweet Caporal: JACK CHESBRO "Yankees" PSA 2 LOOKS 4+ (erase mark top right on back) $175.00
http://s1185.photobucket.com/albums/...urrent=177.jpg
http://s1185.photobucket.com/albums/...urrent=178.jpg
1909-11 T206: Fred Clarke "Portrait" SGC 10 SC 350 30 $45.00
http://s1185.photobucket.com/albums/...&current=9.jpg
http://s1185.photobucket.com/albums/...current=10.jpg
1909-11 T206: PSA 5 ED REULBACH Tough Common "Glove Showing, Chicago Cubs" $315.00
http://s1185.photobucket.com/albums/...current=15.jpg
http://s1185.photobucket.com/albums/...current=16.jpg
1909-11 T206: RUBE MARQUARD SGC 80!!! "Follow Through, New York Giants" $595.00
http://s1185.photobucket.com/albums/...&current=9.jpg
http://s1185.photobucket.com/albums/...current=10.jpg
1909-11 T206: WILDFIRE SCHULTE Rare "Front View" PSA 5 (Piedmont 150 25) $240.00
http://s1185.photobucket.com/albums/...current=17.jpg
http://s1185.photobucket.com/albums/...current=18.jpg
1909-1911 T206: AL BURCH "Batting" PSA 7 Near Mint (Sweet Caporal, mark) $495.00
http://s1185.photobucket.com/albums/...current=51.jpg
http://s1185.photobucket.com/albums/...current=52.jpg
1910 T206: Kid Elberfeld "Washington Portrait" SGC 10, No creases. $250.00
http://s1185.photobucket.com/albums/...current=13.jpg
http://s1185.photobucket.com/albums/...current=14.jpg
Raw:
1909-11 T206 Piedmont: LENA BLACKBURNE $25.00
http://i1185.photobucket.com/albums/...ewarkstamp.jpg
http://i1185.photobucket.com/albums/...ewarkstamp.jpg
1909-11 T206 HoF: BOBBY WALLACE "Portrait, St. Louis AL" Sweet Caporal 150 30 $45.00
http://s1185.photobucket.com/albums/...urrent=345.jpg
http://s1185.photobucket.com/albums/...urrent=346.jpg
1909-11 T206 Piedmont: WILBUR GOODE "Cleveland" Tobacco card $23.00
http://s1185.photobucket.com/albums/...current=39.jpg
http://s1185.photobucket.com/albums/...current=40.jpg
1909-11 T206 Polar Bear: STEVE EVANS $17.00
http://s1185.photobucket.com/albums/...5polarbear.jpg
http://s1185.photobucket.com/albums/...6polarbear.jpg
1909-11 T206 Sovereign 350: BILL CHAPPELLE "Rochester" $32.00
http://s1185.photobucket.com/albums/...urrent=251.jpg
http://s1185.photobucket.com/albums/...urrent=252.jpg
1909-11 T206 Sovereign 350: BILL MALARKEY "Buffalo" $30.00
http://s1185.photobucket.com/albums/...urrent=275.jpg
http://s1185.photobucket.com/albums/...urrent=276.jpg
1909-11 T206 Sovereign 350: BUNK CONGALTON "Columbus" $32.00
http://s1185.photobucket.com/albums/...urrent=259.jpg
http://s1185.photobucket.com/albums/...urrent=259.jpg
1909-11 T206 Sovereign 350: CHARLEY CARR "Portrait, Indianapolis" $19.00
http://s1185.photobucket.com/albums/...urrent=273.jpg
http://s1185.photobucket.com/albums/...urrent=274.jpg
1909-11 T206 Sovereign 350: CLAUDE ROSSMAN "Portrait, Detroit" $22.00
http://s1185.photobucket.com/albums/...urrent=277.jpg
http://s1185.photobucket.com/albums/...urrent=278.jpg
1909-11 T206 Sovereign 350: DICK HOBLITZELL "Cincinnati" $28.00
http://s1185.photobucket.com/albums/...urrent=239.jpg
http://s1185.photobucket.com/albums/...urrent=240.jpg
1909-11 T206 Sovereign 350: DUMMY TAYLOR "Buffalo" $45.00
http://s1185.photobucket.com/albums/...urrent=343.jpg
http://s1185.photobucket.com/albums/...urrent=344.jpg
1909-11 T206 Sovereign 350: HARRY GASPER "Cincinnati" $19.00
http://i1185.photobucket.com/albums/z356/npa589/263.jpg
http://i1185.photobucket.com/albums/z356/npa589/264.jpg
1909-11 T206 Sovereign 350: HARRY HINCHMAN "Portait, Toledo" $28.00
http://i1185.photobucket.com/albums/z356/npa589/229.jpg
http://i1185.photobucket.com/albums/z356/npa589/229.jpg
1909-11 T206 Sovereign 350: HARRY HOWELL "Portrait, St. Louis AL" (2) $16.00
http://i1185.photobucket.com/albums/z356/npa589/227.jpg
http://i1185.photobucket.com/albums/z356/npa589/228.jpg
1909-11 T206 Sovereign 350: HARRY KRAUSE "Philadelphia AL" $26.00
http://i1185.photobucket.com/albums/z356/npa589/269.jpg
http://i1185.photobucket.com/albums/z356/npa589/270.jpg
1909-11 T206 Sovereign 350: HARRY KRAUSE "Portrait, Philadelphia AL" $19.00
http://i1185.photobucket.com/albums/z356/npa589/295.jpg
http://i1185.photobucket.com/albums/z356/npa589/296.jpg
1909-11 T206 Sovereign 350: HEINIE SMITH "Buffalo" $22.00
http://i1185.photobucket.com/albums/z356/npa589/279.jpg
http://i1185.photobucket.com/albums/z356/npa589/280.jpg
1909-11 T206 Sovereign 350: IRA THOMAS "Philadelphia AL" $28.00
http://i1185.photobucket.com/albums/z356/npa589/261.jpg
http://i1185.photobucket.com/albums/z356/npa589/262.jpg
1909-11 T206 Sovereign 350: JACK KNIGHT "Batting, New York" $29.00
http://i1185.photobucket.com/albums/z356/npa589/271.jpg
http://i1185.photobucket.com/albums/z356/npa589/272.jpg
1909-11 T206 Sovereign 350: JACK PFEISTER "Throwing, Chicago NL" $31.00
http://i1185.photobucket.com/albums/z356/npa589/285.jpg
http://i1185.photobucket.com/albums/z356/npa589/286.jpg
1909-11 T206 Sovereign 350: JIMMY JACKSON "Portrait, Baltimore" $31.00
http://i1185.photobucket.com/albums/z356/npa589/237.jpg
http://i1185.photobucket.com/albums/z356/npa589/238.jpg
1909-11 T206 Sovereign 350: LUCKY WRIGHT "Portrait, Toledo" $19.00
http://s1185.photobucket.com/albums/...urrent=293.jpg
http://s1185.photobucket.com/albums/...urrent=294.jpg
1909-11 T206 Sovereign 350: OTTO KRUGER "Columbus" $30.00
http://s1185.photobucket.com/albums/...urrent=255.jpg
http://s1185.photobucket.com/albums/...urrent=256.jpg
1909-11 T206 Sovereign 350: SHAD BARRY "Portrait, Milwaukee" $32.00
http://s1185.photobucket.com/albums/...urrent=253.jpg
http://s1185.photobucket.com/albums/...urrent=254.jpg
1909-11 T206 Sweet Caporal: JERRY FREEMAN - Toledo $20.00
http://s1185.photobucket.com/albums/...current=37.jpg
http://s1185.photobucket.com/albums/...current=38.jpg
1909-11 T206 Sweet Caporal: RUBE KISINGER $25.00
http://s1185.photobucket.com/albums/...ewarkstamp.jpg
http://s1185.photobucket.com/albums/...ewarkstamp.jpg
1909-11 T206: AL BURCH "Batting, Brooklyn" Piedmont 150 25 $25.00
http://s1185.photobucket.com/albums/...urrent=123.jpg
http://s1185.photobucket.com/albums/...urrent=124.jpg
1909-11 T206: BARNEY PELTY "Vertical, St. Louis AL" Piedmont 350 25 $16.00
http://s1185.photobucket.com/albums/...urrent=185.jpg
http://s1185.photobucket.com/albums/...urrent=186.jpg
1909-11 T206: BILL BERGEN "Batting, Brooklyn" Piedmont 150 25 $25.00
http://s1185.photobucket.com/albums/...urrent=125.jpg
http://s1185.photobucket.com/albums/...urrent=126.jpg
1909-11 T206: BILL DINEEN "St. Louis AL" Piedmont 350 25 $22.00
http://s1185.photobucket.com/albums/...urrent=191.jpg
http://s1185.photobucket.com/albums/...urrent=192.jpg
1909-11 T206: Bill Lattimore $22.00
http://s1185.photobucket.com/albums/...current=33.jpg
http://s1185.photobucket.com/albums/...current=34.jpg
1909-11 T206: BILLY GILBERT "St. Louis NL" Piedmont 150 25 $14.00
http://s1185.photobucket.com/albums/...current=95.jpg
http://s1185.photobucket.com/albums/...current=96.jpg
1909-11 T206: BILLY SULLIVAN "Chicago AL" Piedmont 350 25 $25.00
http://s1185.photobucket.com/albums/...urrent=209.jpg
http://s1185.photobucket.com/albums/...urrent=210.jpg
1909-11 T206: BOB GROOM "Pitching, Wash." Piedmont 350 25 (1) $22.00
http://s1185.photobucket.com/albums/...current=85.jpg
http://s1185.photobucket.com/albums/...current=86.jpg
1909-11 T206: BOB GROOM "Pitching, Wash." Piedmont 350 25 (2) $19.00
http://s1185.photobucket.com/albums/...current=87.jpg
http://s1185.photobucket.com/albums/...current=88.jpg
1909-11 T206: BULL DURHAM "Portrait, NY" Piedmont 150 25 $29.00
http://s1185.photobucket.com/albums/...urrent=175.jpg
http://s1185.photobucket.com/albums/...urrent=176.jpg
1909-11 T206: CHARLES O'LEARY "Fielding, Detroit" Piedmont 350 25 $21.00
http://s1185.photobucket.com/albums/...urrent=201.jpg
http://s1185.photobucket.com/albums/...urrent=202.jpg
1909-11 T206: DAN McGANN "Portrait, Milwaukee" Piedmont 350 25 $20.00
http://s1185.photobucket.com/albums/...urrent=163.jpg
http://s1185.photobucket.com/albums/...urrent=164.jpg
1909-11 T206: DAVY JONES "Portrait, Detroit" Piedmont 350 25 $25.00
http://s1185.photobucket.com/albums/...urrent=207.jpg
http://s1185.photobucket.com/albums/...urrent=208.jpg
1909-11 T206: DEACON PHILLIPPE "Pittsburgh" Piedmont 350 25 $25.00
http://s1185.photobucket.com/albums/...urrent=217.jpg
http://s1185.photobucket.com/albums/...urrent=218.jpg
1909-11 T206: DUMMY TAYLOR "Buffalo" Piedmont 350 25 $24.00
http://s1185.photobucket.com/albums/...urrent=177.jpg
http://s1185.photobucket.com/albums/...urrent=178.jpg
1909-11 T206: HARRY DAVIDSON "Indianapolis" Piedmont 350 25 $21.00
http://s1185.photobucket.com/albums/...urrent=189.jpg
http://s1185.photobucket.com/albums/...urrent=190.jpg
1909-11 T206: JACK PFEISTER "Throwing, Chicago NL" Piedmont 350 25 $17.00
http://s1185.photobucket.com/albums/...urrent=159.jpg
http://s1185.photobucket.com/albums/...urrent=160.jpg
1909-11 T206: Jack White Buffalo $22.00
http://s1185.photobucket.com/albums/...&current=1.jpg
http://s1185.photobucket.com/albums/...&current=2.jpg
1909-11 T206: JAKE STAHL "No Glove, Boston AL" Piedmont 150 25 $25.00
http://s1185.photobucket.com/albums/...urrent=169.jpg
http://s1185.photobucket.com/albums/...urrent=170.jpg
1909-11 T206: JAKE WEIMER "New York NL" Piedmont 350 25 $20.00
http://s1185.photobucket.com/albums/...urrent=161.jpg
http://s1185.photobucket.com/albums/...urrent=162.jpg
1909-11 T206: JIM SCOTT "Chicago AL" Piedmont 350 25 $19.00
http://s1185.photobucket.com/albums/...urrent=139.jpg
http://s1185.photobucket.com/albums/...urrent=140.jpg
1909-11 T206: JIMMY SLAGLE "Baltimore" Piedmont 350 25 $16.00
http://s1185.photobucket.com/albums/...urrent=173.jpg
http://s1185.photobucket.com/albums/...urrent=174.jpg
1909-11 T206: JIMMY WILLIAMS "St. Louis AL" Piedmont 150 25 $19.00
http://s1185.photobucket.com/albums/...urrent=143.jpg
http://s1185.photobucket.com/albums/...urrent=144.jpg
1909-11 T206: JOHN HUMMEL "Brooklyn" Piedmont 350-460 25 $25.00
http://s1185.photobucket.com/albums/...urrent=203.jpg
http://s1185.photobucket.com/albums/...urrent=204.jpg
1909-11 T206: LUCKY WRIGHT "Portrait, Toledo" Piedmont 350 25 $21.00
http://s1185.photobucket.com/albums/...urrent=181.jpg
http://s1185.photobucket.com/albums/...urrent=182.jpg
1909-11 T206: MONTY CROSS "Indianapolis" Piedmont 350 25 $21.00
http://s1185.photobucket.com/albums/...urrent=115.jpg
http://s1185.photobucket.com/albums/...urrent=116.jpg
1909-11 T206: MOOSE McCORMICK "New York NL" Piedmont 350 25 $24.00
http://s1185.photobucket.com/albums/...urrent=213.jpg
http://s1185.photobucket.com/albums/...urrent=214.jpg
1909-11 T206: RUBE KROH "Chicago NL" Piedmont 350 25 $21.00
http://s1185.photobucket.com/albums/...urrent=205.jpg
http://s1185.photobucket.com/albums/...urrent=206.jpg
1909-11 T206: TOMMY LEACH "Bending Over, Pittsburgh" Piedmont 350-460 25 $16.00
http://s1185.photobucket.com/albums/...urrent=199.jpg
http://s1185.photobucket.com/albums/...urrent=200.jpg
1909-11 T206: TUBBY SPENCER "Boston AL" Piedmont 150 25 $24.00
http://s1185.photobucket.com/albums/...urrent=171.jpg
http://s1185.photobucket.com/albums/...urrent=172.jpg
1909-11 T206: Vic Willis HOF Throwing POLAR BEAR Back $33.00
http://s1185.photobucket.com/albums/...current=17.jpg
http://s1185.photobucket.com/albums/...current=18.jpg
E93 Standard Caramel
1910 E93 Standard Caramel: CLARK GRIFFITH SGC 30 Vintage Baseball Caramel Card $160.00
http://s1185.photobucket.com/albums/...current=43.jpg
http://s1185.photobucket.com/albums/...current=44.jpg
1910 E-UNC Candy COBB
1910 E-Unc Candy Baseball: TY COBB SGC Authentic SGC Pop: 2 PSA Pop: 0 $2,000.00
http://s1185.photobucket.com/albums/...current=65.jpg
http://s1185.photobucket.com/albums/...current=66.jpg
1910 T210 Series
1910 T210-1 Old Mill Cigarettes: HAUSER "Augusta" PSA 6 (Low Pop/Highest Graded) $295.00
http://s1185.photobucket.com/albums/...urrent=143.jpg
http://s1185.photobucket.com/albums/...urrent=144.jpg
1910 T210-1 Old Mill Cigarettes: Norcum "Augusta" PSA 5.5 (Highest Grade Given) $265.00
http://s1185.photobucket.com/albums/...urrent=141.jpg
http://s1185.photobucket.com/albums/...urrent=142.jpg
1910 T210-1 Old Mill: SMITH, Augusta PSA 4 (Vintage Baseball Tobacco Card) $129.00
http://s1185.photobucket.com/albums/...current=33.jpg
http://s1185.photobucket.com/albums/...current=34.jpg
1910 T210-1 Old Mill: BAGWELL "Augusta" PSA 6 Only PSA Ex, Highest Grade Ever $285.00
http://s1185.photobucket.com/albums/...current=81.jpg
http://s1185.photobucket.com/albums/...current=82.jpg
1910 T210-1 Old Mill: BREMMERHOF "Jacksonville" PSA 6 Pop 1/1 Highest Grade $295.00
http://s1185.photobucket.com/albums/...current=79.jpg
http://s1185.photobucket.com/albums/...current=80.jpg
1910 T210-1 Old Mill: HANNIFAN "Augusta" PSA 6 Only PSA Example NONE Higher $295.00
http://s1185.photobucket.com/albums/...current=77.jpg
http://s1185.photobucket.com/albums/...current=78.jpg
1910 T210-1 Old Mill: LEWIS "Columbia" PSA 6 Pop 1/1 Highest Grade Ever $285.00
http://s1185.photobucket.com/albums/...current=75.jpg
http://s1185.photobucket.com/albums/...current=76.jpg
1910 T210-1 Old Mill: TAFFEE "Jacksonville" PSA 6.5 ONLY PSA Example None Higher $325.00
http://s1185.photobucket.com/albums/...current=83.jpg
http://s1185.photobucket.com/albums/...current=84.jpg
1910 T210-2 Old Mill: EDDOWES "Lynchburg" PSA 4 Pop 1/3, None Higher $135.00
http://s1185.photobucket.com/albums/...current=87.jpg
http://s1185.photobucket.com/albums/...current=88.jpg
1910 T210-2 Old Mill: WALKER "Norfolk" PSA 4 Pop 1/2, Two Higher $129.00
http://s1185.photobucket.com/albums/...current=85.jpg
http://s1185.photobucket.com/albums/...current=86.jpg
1910 T210-5 Old Mill Cigarettes: FOGARTY "Winston-Salem" PSA 5.5 (Highest Grade) $425.00
http://s1185.photobucket.com/albums/...urrent=145.jpg
http://s1185.photobucket.com/albums/...urrent=146.jpg
1910 T210-5 Old Mill: BULLOCK "Spartanburg" PSA 5.5 Pop 1/1, None Higher at all $375.00
http://s1185.photobucket.com/albums/...current=91.jpg
http://s1185.photobucket.com/albums/...current=92.jpg
1910 T210-5 Old Mill: HICKS "Greensboro" PSA 6 Pop 1/2 None Higher PSA or SGC $400.00
http://s1185.photobucket.com/albums/...current=93.jpg
http://s1185.photobucket.com/albums/...current=94.jpg
1910 T210-6 Old Mill Cigarettes: SINEX "Lexington" PSA 3 (2nd Highest Grade) $175.00
http://s1185.photobucket.com/albums/...urrent=147.jpg
http://s1185.photobucket.com/albums/...urrent=148.jpg
1910 T210-6 Old Mill: HEVERON "Lexington" PSA 4 (Highest Grade Given) $325.00
http://s1185.photobucket.com/albums/...urrent=153.jpg
http://s1185.photobucket.com/albums/...urrent=154.jpg
1910 T210-6 Old Mill: MEYERS "Lexington" PSA 4 IMPOSSIBLE CARD (Highest Grade!!) $425.00
http://s1185.photobucket.com/albums/...urrent=151.jpg
http://s1185.photobucket.com/albums/...urrent=152.jpg
1910 T210-6 Old Mill: OLSON "Richmond" PSA 5 (Highest Grade Given) $395.00
http://s1185.photobucket.com/albums/...urrent=155.jpg
http://s1185.photobucket.com/albums/...urrent=156.jpg
1910 T210-6 Old Mill: SCHULTZ "Maysville" PSA 5 (Highest Grade Given) $435.00
http://s1185.photobucket.com/albums/...urrent=159.jpg
http://s1185.photobucket.com/albums/...urrent=160.jpg
1910 T210-6 Old Mill: VAN LANDINGHAM "Lexington" PSA 5 (Highest Grade Given) $425.00
http://s1185.photobucket.com/albums/...urrent=157.jpg
http://s1185.photobucket.com/albums/...urrent=158.jpg
1910 T210-6 Old Mill: WALDEN "Richmond" PSA 3 VERY TOUGH CARD (Highest Grade!) $225.00
http://s1185.photobucket.com/albums/...urrent=149.jpg
http://s1185.photobucket.com/albums/...urrent=150.jpg
1910 T210-6 Old Mill: WILLS "Richmond" PSA 6 (Highest Grade Given) $525.00
http://s1185.photobucket.com/albums/...urrent=161.jpg
http://s1185.photobucket.com/albums/...urrent=162.jpg
1910 T210-6: KIRCHER "Winchester" PSA 6.5 (Highest Grade for any Series 6 card) $875.00
http://s1185.photobucket.com/albums/...urrent=163.jpg
http://s1185.photobucket.com/albums/...urrent=164.jpg
1910 T210-8 Old Mill: HESS "New Orleans" PSA 4.5 $475.00
http://s1185.photobucket.com/albums/...urrent=165.jpg
http://s1185.photobucket.com/albums/...urrent=166.jpg
1910 T210-8 Old Mill: JORDAN "Atlanta" PSA 3 Pop 1/1, None Higher $305.00
http://s1185.photobucket.com/albums/...current=97.jpg
http://s1185.photobucket.com/albums/...current=98.jpg
1910 T210-8 Old Mill: PEPE "Montgomery" PSA 5 $525.00
http://s1185.photobucket.com/albums/...urrent=167.jpg
http://s1185.photobucket.com/albums/...urrent=168.jpg
1910 T210-8: GRIFFIN, Atlanta SGC 10 Rare Old Mill Vintage Baseball Tobacco Card $84.00
http://s1185.photobucket.com/albums/...current=25.jpg
http://s1185.photobucket.com/albums/...current=26.jpg
1910 T210-8: MAXWELL"New Orleans (Joe Jackson's Team)" PSA 3 Only PSA Graded Ex! $275.00
http://s1185.photobucket.com/albums/...current=95.jpg
http://s1185.photobucket.com/albums/...current=96.jpg
1910 T210-8: THOMAS, Montgomery SGC 10 (Rare Vintage Baseball Tobacco Card) $84.00
http://s1185.photobucket.com/albums/...current=29.jpg
http://s1185.photobucket.com/albums/...current=30.jpg
T3 Turkey Reds (All have trimmed borders other than name plate)
1910 T3 Turkey Red: "Safe at Third" $44.00
http://s1185.photobucket.com/albums/...urrent=485.jpg
http://s1185.photobucket.com/albums/...urrent=486.jpg
1910 T3 Turkey Red: BILL DAHLEN "Brooklyn" $58.00
http://s1185.photobucket.com/albums/...urrent=509.jpg
http://s1185.photobucket.com/albums/...urrent=510.jpg
1910 T3 Turkey Red: CHIEF MYERS "At Bat" $50.00
http://s1185.photobucket.com/albums/...urrent=481.jpg
http://s1185.photobucket.com/albums/...urrent=482.jpg
1910 T3 Turkey Red: CLARK GRIFFITH "HoF, Cincinnati Reds" $125.00
http://s1185.photobucket.com/albums/...urrent=469.jpg
http://s1185.photobucket.com/albums/...urrent=470.jpg
1910 T3 Turkey Red: FRANK CHANCE "HoF, Chicago Cubs" $145.00
http://s1185.photobucket.com/albums/...urrent=465.jpg
http://s1185.photobucket.com/albums/...urrent=466.jpg
1910 T3 Turkey Red: GEORGE BURNS "Black Sox Member, Chicago White Sox" $60.00
http://s1185.photobucket.com/albums/...urrent=511.jpg
http://s1185.photobucket.com/albums/...urrent=512.jpg
1910 T3 Turkey Red: HANS LOBERT "Cincinnati Reds" $57.00
http://s1185.photobucket.com/albums/...urrent=495.jpg
http://s1185.photobucket.com/albums/...urrent=496.jpg
1910 T3 Turkey Red: HARRY MCINTYRE (Mcintire) "Brooklyn" $57.00
http://s1185.photobucket.com/albums/...urrent=505.jpg
http://s1185.photobucket.com/albums/...urrent=506.jpg
1910 T3 Turkey Red: HOWIE CAMNITZ "Pittsburgh Pirates" $56.00
http://s1185.photobucket.com/albums/...urrent=501.jpg
http://s1185.photobucket.com/albums/...urrent=502.jpg
1910 T3 Turkey Red: HUGHIE JENNINGS "HoF, Detroit Tigers" $125.00
http://s1185.photobucket.com/albums/...urrent=471.jpg
http://s1185.photobucket.com/albums/...urrent=472.jpg
1910 T3 Turkey Red: JACK PFEISTER (Pfiester) "Chicago Cubs" $48.00
http://s1185.photobucket.com/albums/...urrent=503.jpg
http://s1185.photobucket.com/albums/...urrent=504.jpg
1910 T3 Turkey Red: JIMMY DYGERT "Philadelphia A's" $49.00
http://s1185.photobucket.com/albums/...urrent=499.jpg
http://s1185.photobucket.com/albums/...urrent=500.jpg
1910 T3 Turkey Red: JOHNNY EVERS "HoF, Chicago Cubs" $135.00
http://s1185.photobucket.com/albums/...urrent=467.jpg
http://s1185.photobucket.com/albums/...urrent=468.jpg
1910 T3 Turkey Red: KID ELBERFELD "Washington" $58.00
http://s1185.photobucket.com/albums/...urrent=513.jpg
http://s1185.photobucket.com/albums/...urrent=514.jpg
1910 T3 Turkey Red: MATTY MCINTYRE "Detroit Tigers" $58.00
http://s1185.photobucket.com/albums/...urrent=497.jpg
http://s1185.photobucket.com/albums/...urrent=498.jpg
1910 T3 Turkey Red: RED KLEINOW "New York Yankees" $58.00
http://s1185.photobucket.com/albums/...urrent=491.jpg
http://s1185.photobucket.com/albums/...urrent=492.jpg
1910 T3 Turkey Red: RED MURRAY "New York Giants" $49.00
http://s1185.photobucket.com/albums/...urrent=487.jpg
http://s1185.photobucket.com/albums/...urrent=488.jpg
1910 T3 Turkey Red: RUBE WADDELL "HoF, St. Louis Browns" $135.00
http://s1185.photobucket.com/albums/...urrent=473.jpg
http://s1185.photobucket.com/albums/...urrent=474.jpg
1910 T3 Turkey Red: TOMMY LEACH "Pittsburgh Pirates" $55.00
http://s1185.photobucket.com/albums/...urrent=507.jpg
http://s1185.photobucket.com/albums/...urrent=508.jpg
1910 T3 Turkey Red: TRIS SPEAKER "HoF, Boston Red Sox" $205.00
http://s1185.photobucket.com/albums/...urrent=477.jpg
http://s1185.photobucket.com/albums/...urrent=478.jpg
1910 T3 Turkey Red: VIC WILLIS "HoF, Pittsburgh Pirates" $115.00
http://s1185.photobucket.com/albums/...urrent=475.jpg
http://s1185.photobucket.com/albums/...urrent=476.jpg
T205 Gold Border
1911 T205 Gold Border: BOB GROOM "Washington Senators" $19.00
http://s1185.photobucket.com/albums/...current=27.jpg
http://s1185.photobucket.com/albums/...current=28.jpg
1911 T205 Gold Border: DANNY MURPHY "Philadelphia AL" Polar Bear $21.00
http://s1185.photobucket.com/albums/...urrent=315.jpg
http://s1185.photobucket.com/albums/...urrent=316.jpg
1911 T205 Gold Border: FRED BECK "Boston Rustlers" Polar Bear $21.00
http://s1185.photobucket.com/albums/...urrent=305.jpg
http://s1185.photobucket.com/albums/...urrent=306.jpg
1911 T205 Gold Border: HARRY GASPAR "Cincinnati Reds" Sweet Caporal $20.00
http://s1185.photobucket.com/albums/...urrent=301.jpg
http://s1185.photobucket.com/albums/...urrent=302.jpg
1911 T205 Gold Border: JIM SCOTT "Chicago White Sox" Honest $21.00
http://s1185.photobucket.com/albums/...urrent=329.jpg
http://s1185.photobucket.com/albums/...urrent=330.jpg
1911 T205 Gold Border: LEWIS RICHIE "Chicago Cubs" Piedmont $24.00
http://s1185.photobucket.com/albums/...urrent=335.jpg
http://s1185.photobucket.com/albums/...urrent=336.jpg
T216 Kotton Cigarettes
T216 Kotton Cigarettes: RUBE MARQUARD HOF New York SGC 10 $185.00
http://s1185.photobucket.com/albums/...&current=7.jpg
http://s1185.photobucket.com/albums/...&current=8.jpg
1913 T230 Pan Handle Scrap
1913 T230 Pan Handle Scrap: PSA 3.5 DUKE KAHANAMOKU Olympic Champion $495.00
http://s1185.photobucket.com/albums/...urrent=137.jpg
http://s1185.photobucket.com/albums/...urrent=138.jpg
1913 T213-2 Coupon Cigarettes
1914 T213-2 Coupon Cigarettes: JOHN McGRAW "Portrait" PSA 4 $575.00
http://s1185.photobucket.com/albums/...urrent=179.jpg
http://s1185.photobucket.com/albums/...urrent=180.jpg
1911 D310 Pacific Coast Biscuit
1911 D310 Pacific Coast Biscuit Minor League Baseball: HITT, Vernon SGC 10 $140.00
http://s1185.photobucket.com/albums/...current=63.jpg
http://s1185.photobucket.com/albums/...current=64.jpg
1911 D310 Pacific Coast Biscuit Minor League Baseball: McDONNELL, Vernon SGC 10 $135.00
http://s1185.photobucket.com/albums/...current=67.jpg
http://s1185.photobucket.com/albums/...current=68.jpg
1911 D310 Pacific Coast Biscuit Minor League Baseball: MOORE, Los Angeles SGC 10 $150.00
http://s1185.photobucket.com/albums/...current=65.jpg
http://s1185.photobucket.com/albums/...current=66.jpg
1911 D310 Pacific Coast Biscuit Minor League Baseball: SUTOR, S.F. SGC A $144.00
http://s1185.photobucket.com/albums/...current=61.jpg
http://s1185.photobucket.com/albums/...current=62.jpg
1924 C144 Champ's Cigarettes (Hockey)
1924 C144 Champ's Cigarettes: BILLY BURCH PSA 4.5 "Hockey HOF'er" $550.00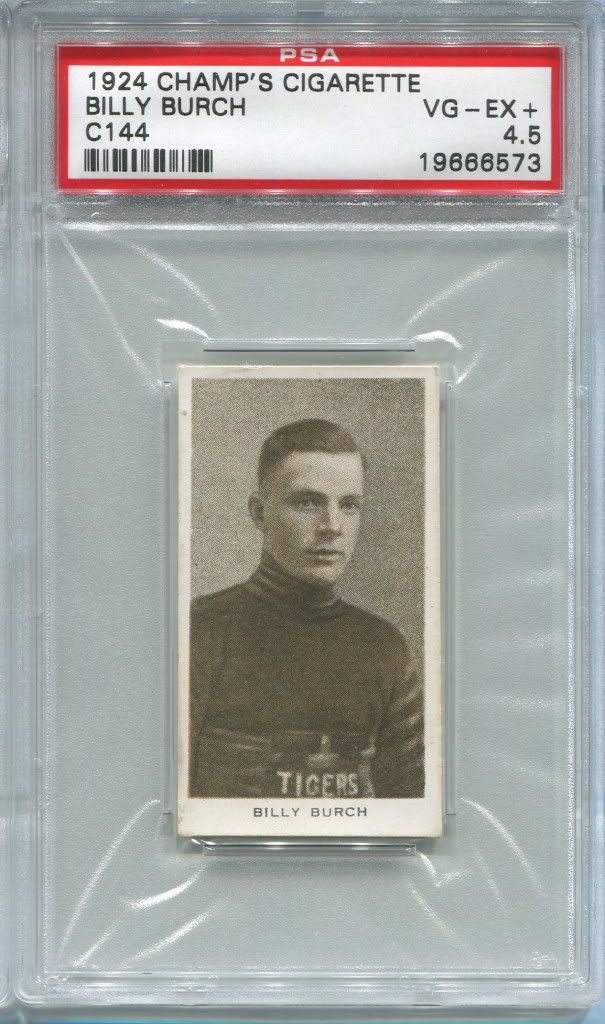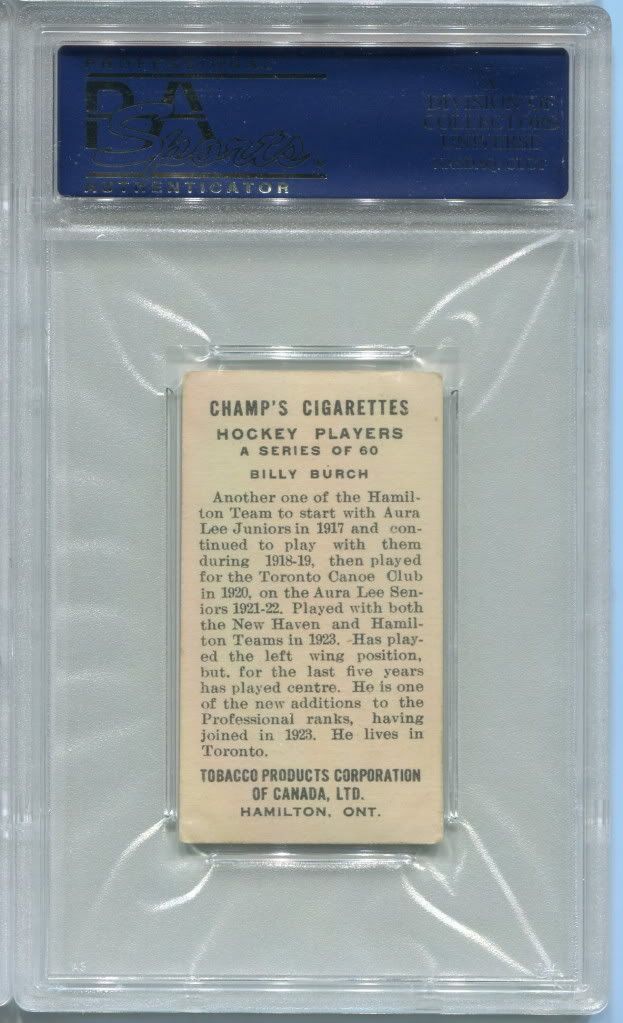 T206 Associated Ephemera
Carolina Brights Pre-T206 Envelope Dated 1903 250$ OBO
http://s1185.photobucket.com/albums/...rightsEnvF.jpg
http://s1185.photobucket.com/albums/...rightsEnvB.jpg
Polar Bear Pre-T206 Envelope Dated 1905 95$ OBO
http://s1185.photobucket.com/albums/...arBearEnvF.jpg
http://s1185.photobucket.com/albums/...arBearEnvB.jpg